I have been creating my "action painting" for many years.
Lifted in the midair with a crane, I throw down some bottles filled with colors and make a drawing on the ground. Now I am planning to complete this in one hundred
years!! This art is titled "Proof of Peace"' for when it is completed, peace will have been kept for as long as one hundred years.
I must continue to create this to fulfIll my promise to Bern Porter. He was one of the researchers who developed the atomic bomb. He intended to show a film, on which the tragic results of nuclear tests had been recorded, to the Showa Emperor Hirohito hoping to put an end to the war between the US and Japan immediately. However, atomic bombs were dropped over Hiroshima, and Nagasaki. He was conscience stricken and became a mail artist advocating world peace.
In 1987, he visited my office and he entrusted the peace-keeping movement to me.
In 1996, I was nominated by him as a candidate for the Nobel Peace Prize. I have been in charge of the peace-keeping movement as a mail artist.
In 2004, my "action painting" was broadcasted. through J apan as the TV advertisements for Nissan Motor Co.,Ltd.
As a part of the peace- keeping movement, I perform this "action painting" on every memorial day of atomic bombing of Hiroshima. I also perform this when we hold some other peace-keeping events here. This is a solemn promise that I made to Bern Porter. Now that he passed away, I would like to extend this peace-keeping movement from this peace base, which has the biggest yacht harbor in Asia. The exhibition is open on the memorial day of Hiroshima every year, and we are planning more events for him here.
I thank you in advance for your time and I'm looking forward your reply.
Shozo SHIMAMOTO
1-1-10 Koshienguchi
Nishinomiya, Hyogo
JAPAN 663-8113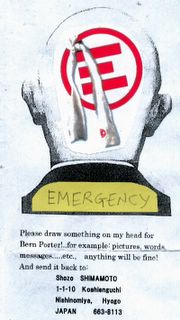 Sent to Shozo, Japan